When I first knew about the event, I told myself I must go check it out but as forgetful as always I forgot about it and had plan on that weekend.
If it wasn't for Jester's invites, I might actually  miss it out. So I rearranged my plan for that weekend and did a one-day trip to KL.
This year the Urbanscape event was held in Sentul which was quite easy for me to reach. As I took a LRT ride straight from the LRT behind the Pudu Bus Station to there. As easy as it seems to be, there was only one problem.
There was no sign or indicator to know where should I wait for the Urbanscape shuttle van, eventually like everyone else, I waited at the wrong spot.
While waiting, I walk around and browse through the area and gosh I like it so much.
There are arts everywhere. There are booths displaying their artworks and designs, stalls selling their designs or other people designs, and there are music almost every corners, live bands, street performances, and even live concerts. There even had short film showings, local movie screenings and stage performances in the KL Pac Building.
After a while, and my date of the day, Jester arrived. LOL.
I'm such a meanie. Actually I think I will get lost too since the KL city is too big d. @@
.
.
.
And we started to walk around at the place and found these cute stuffs there…
Doodolls
Cute Rabbit Namecards by Stoodle
And the super cute flying cow from FrankieMumbo~~
Hahaha I love this cow very much.
I dunno why but I just..
Nothing wrong with it right?
.
.
.
I didn't shoot much but here are some random shots to share.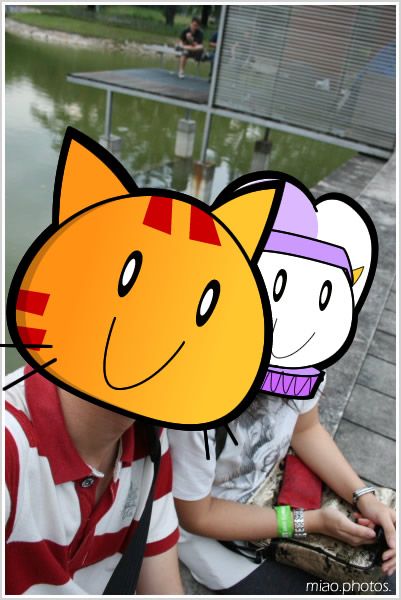 .
.
.
Here's a some videos from the event by other visitors…

.
.
.
The places started to get more interesting at night but…
Hopefully, next year I can go again and hope it would be a even greater event.
.
.
.
.
.
.
.
2 days later