Friday, 18 of September marked the day King Wafu left us for Pafu.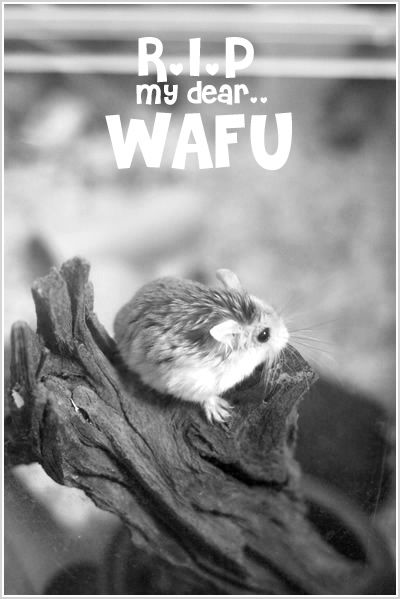 Yes, I know its almost 2 weeks ago. So far, only those who is around me knew it since I was behaving unusual back then.
I'm so sorry that I told you guys so late. I know some of you guys kinda like him which makes me dunno how to tell you guys as it might just makes you guys unhappy.
I thought of making a cute comic strip about him going up there to find Pafu so it would seems to be something more cheering than sadding but today I happened to stumble on this post of them and it makes me misses them even more. So I decided to just let him go as how it is, no comic strip or anything, just a dedicated post for him like Pafu's.
.
.
Details:
Almost every morning, I will check with Wafu to see whether his food and drinks still available. Then on that very Friday morning, Wafu did not woke up from his sleep. Everything was okay the day before, I still remember I helped him with his sunflower seeds.
And that very midnight/early morning, Wafu left us quietly in his dream.
.
Quoting my own words back then from here:
"And there are times when they went their own separate ways….But no matter how the day is, they will end up sleeping together."
.
And in the end, they really are sleeping together under the big tree behind my apartment.
May Wafu rest in peace and I hate myself for being a bad pet owner.