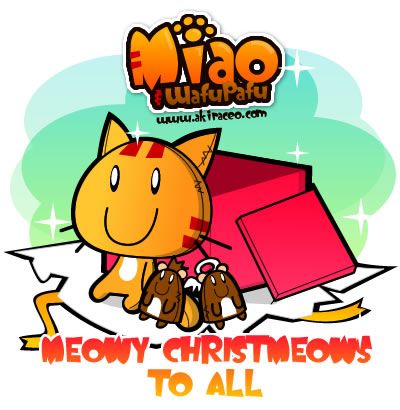 Here's a virtual Miao&WafuPafu plushies for you all 😛
Wheeee Happy Holiday to all!!! As everyone knows, I'm a big fan of Christmas but this year I decided to stay home :P. Saving my energy for tomorrow's charity run.
Well, my best Christmas day ever was 7 years ago and i was having it at home.
Yes, it's no other than the Christmas in Ragnarok Online. It was fun. Everyone was wearing Santa hats, Prontera was snowing, and people were hunting for the Red Present Box and Socks with Holes. 😀 Awww… the good old days 😛
When I was small, I had my Christmas at home too, wake up early in the morning to catch all the Christmas cartoons on TV while lying my lazy cat ass on the floor of my living hall. 😛 Awww…home sweet home.. hahaha
Anyway, how about you guys? How did you celebrate your Christmas or what are you planning to do over this Christmas weekend?