Time for my 2010 report card.

– A Healthy Month..Exercise exercise and exercise
– Joined a laptop cover design contest (hoping to win a brand new laptop but failed T3T)
– Got addicted to Kpop (T-ara's Cat dance song, Bo Beep)
.

– Manage to hands on DiGi's Blackberry phone *hearts the phone*
– Went back to Kuching for CNY
– Went to Lundu & Sematan Beach for the first time
– Friends banned me from looking at my Blackberrt 24/7 and also BoBeep
.

– Returned my Blackberry to DiGi *sob sob*
– Sobbing for the whole month LOL
– Sent Miao for a plastic surgery (I did a small modification on Miao 😛 )
.

– Did two videos for advertorial
– One of them received high response from readers 😀 Thank you
– Watch it here.
– Someone broke into my house
.

– 3rd year anniversary~~ oh yeah!
– Met a model!! woohoo
– WafuPafu turned into Iron Hamsters ( two movies back to back)
– Bullied by a lizard T3T
.

– Senior gave me a 'cat'
– Started my world domination plan 1
– Stress over it *LOL*
– Accident twice but lucky no one is hurt 😛
.

– My car went in the Drain :/
– Couple of side design jobs coming in *happy*
– 4 advertorials came in at the same time
– Stress… XD
– Domination plan on hold
– Heart IU, stress all gone XD
.

– Had my first one week off from blogging after 3 years..
– My laptop wife left me 3 days before a trip and near my design assignments' deadline
– Went to Hatyai, Thailand for the first time!
– Met 3 awesome bloggers from 3 different countries 😀
.

– Went back to Kuching and back to my old house after 10 years.
– Played Rock Band Mania for the first time. *fun max!*
– Had my first KL clubbing experience
– Having my birthday with strangers @@
.
– Participated Digi Free your idea contest ( hoping to win 10k but failed again )
-Went to Hong Kong and Disney HK for the first time wheee
– Met 8 fantastic cosplayers/bloggers from 4 different countries 😀
– Participated in my first cosplay event
– Met Alodia in person *dies*
– A reader from Singapore gave me a pressie!!
– Finish my design jobs T3T
– Rejecting new design jobs to focus on my Domination Plan
.

– I received a 'cat' from Germany *hearts*
– Went to the Dentist two times in a row and there's much more to go T3T
– My car broke down T3T
– A wallet 'bleeding' month
– Finalizing the Domination plan
.

– Domination Plan 1 released: First Miao&WafuPafu T-shirt pre-order
– Busy with the shipping infos and preparations @@
– Finish a 6km Run
.
– The end-
————————————————————————————————
2010 is a great year especially the second half of the year where most of the fun stuffs starts 😀
One or two of my dreams even came true.
All of them would not happened without all your supports!!! Thank you all sooooo much for the supports!! the comments!! the messages!! and the every single time you enter my little site!!
Really thank you sooo much..  *hugs and hearts!!*
In coming 2011, I will hope I can bring more interesting posts and stories to all of you!! and hope they won't bored you out! 😀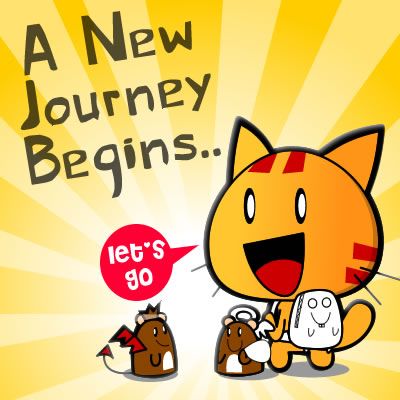 Last and not least…
Happy New Year all my awesome readers!!! You guys the best!!