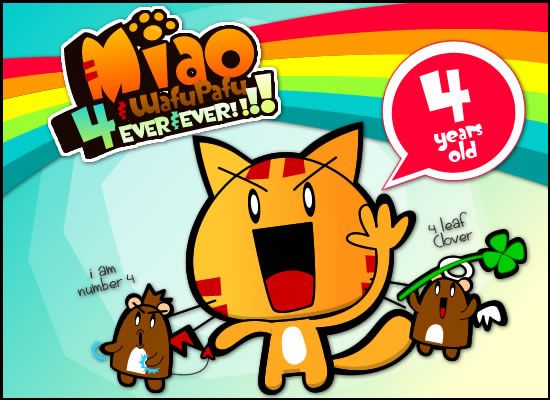 Woohoooo!!! Miao&WafuPafu is 4 years old!!
(Read: 2nd year and 3rd year here)
As always, a very BIG THANKS to all my readers and supporters for all these years!!! You guys have been soooo supportive!!! Thanks!!
Oh ya, sorry for the slow update lately. I have been very busy lately with works and more works. I promise to make more post in my coming days. 🙂 And I have so many plans ahead for Miao&WafuPafu!! I might come out with my second shirt design. Kekeke…
If you're wondering about the first design, well it's gonna be release soon. So stay tune ya.
Hmm..Before I leave you guys with a video of Miao version of PopTart Cat and go to sleep (it's 2am right now), a super duper whooper burger Thank You again to everyone's support!!
Enjoy the vid 🙂
Lyric: Nya nya nya nya nya nya nya~~x100
——————————————————
On the side note, I just joined this DiGi contest. If you have the time, kindly go vote for me ya 😛 (said with thick face). It's an award contest where the most voted participant of that categories wins.
Although I feel like my chances of winning is low but at least I try, right?
Click the image below, sign in your Facebook account and click the Like button there. 🙂
Thank you sooo much~~~~