Fraid not! Now you can actually earn some coffee money from my blog 🙂
This is how to do it.
Just go to the my blog's sidebar. You will notice there's a Nuffnang advertisment box on the top of the sidebar. The box is always there but now there's another box right below it.
This new box is the Nuffnang's Grapevine, it's something cool (I think it's cooler than me) where it allows you to share the ad you saw on my blog to your friends.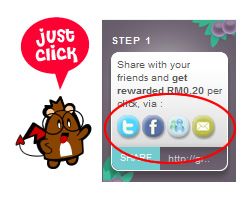 You can either share it right away by just clicking any of the Twitter, Facebook, MSN or Email buttons.
or copy your unique link from the box and put it on your blog or site. Every click generated from the unique link you shared will generate $ for you. 🙂