A photo of us on the MRT
 It was my first time to Clark Quay at night and the view was amazing.
The lights and the colors was just beautiful. So beautiful that I was too busy looking around and forgot to take any photos. T_____T I didn't know until I transfer my photos and find no image of Clark Quay.
Then again, I love the place very much. Hope I can revisit the place again, sit down by the river and drink some tea. 😛
After lurking around the place for a while, we
who brought us to the Proton Lotus Renault event at the center of Clark Quay..
 which was quite easy to spot especially with the big logo on the wall. XD
Oh, in case you don't know, we were actually invited by Proton to witness their showcase in Clarke Quay and to join them in their support for the Lotus Renault F1 team in the Singapore Singtel Grand Prix 2011. PROTON is supporting their subsidiary Group Lotus who are the title sponsors for the Lotus-Renault Grand Prix team..
There were quite a number of things to see there.
 Lotus Renault merchandize.
The Lotus Renault F1 showcar
(Limited edition Satria R3 Neo in the background)
 The Lotus Evora
The SIC grid girls were there too
There's something else that caught our eyes, it was this big steel thingy called a Batak machine. Its actually a reaction/reflex machine, where 12 pressable buttons will lights up one by one and you need to hit/press it as much as possible in a 1 minute.
There is two modes to play with, solo mode and competitive mode where you can compete with each other to get the most points possible.
Its seems like so much fun that TianChad and I went and gave it a try.
I did my super duper whooper move but in the end still lost badly to TianChad. T3T
Then again, it was very fun XD
There was actually two official competitions where the person with the highest points in the first section gets to win him/herself a ticket to PROTON's lifestyle event, Black&Gold Mystique Party at 1Alttitude and a ticket to watch the race on Sunday in the second section of the competition.
 Quite a number of people tried it.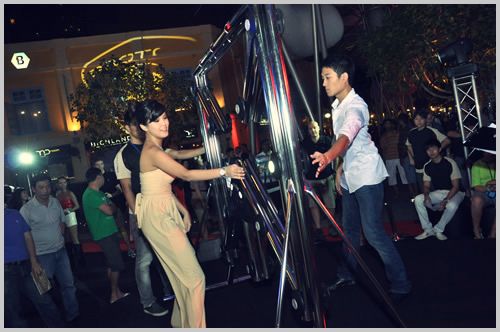 Even the Singapore Blogger, Peggy and her boyfriend.
 And surprisingly, her boyfriend won the competition with 63 points and able to attend the party at 1Altitude with her.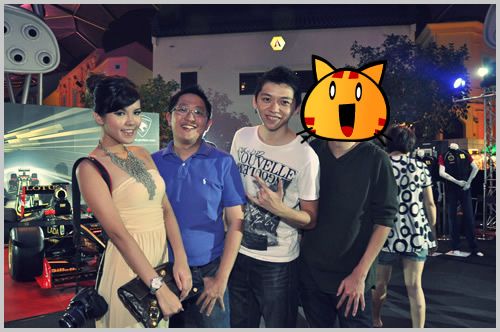 We took a group photo with Peggy before they left.
Tian Chad and I in the other hand had our dinner with the PROTON guys while waiting for Miss Australia, Scherri-Lee Biggs who is the ambassor of PROTON Australia to arrive.
Before we can finish our dinner, she arrived. And goshhh she's simply gorgeous.
 The host had a short interview with her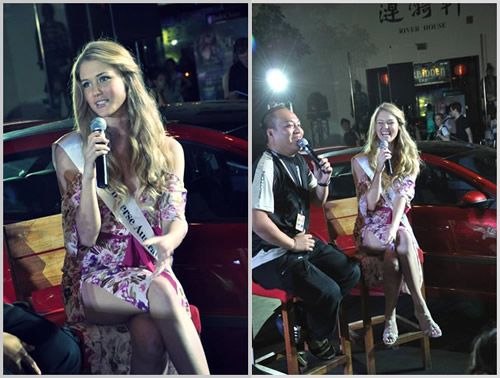 OMG!! She looked into my camera. Fainted
After the interview, she went and try out the Batak Machine.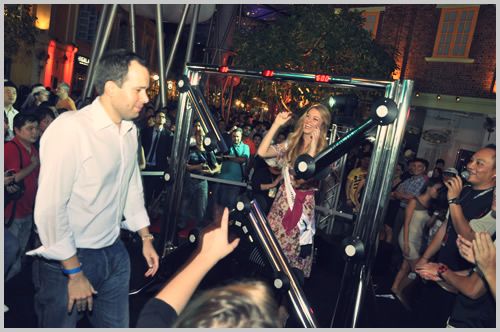 And she won over this random guy and she was wearing a dress that time.
Awesome~ XD
It was very entertaining. She left right after that and we get back to our dinner.
And Alvin from Proton was super nice to treat us a meal. T3T
 Oh, check out the passes given to us, not only one but 3 days passes!!!
Fuuuuwahh!!
And so, we went to watch the Final Race on Sunday night.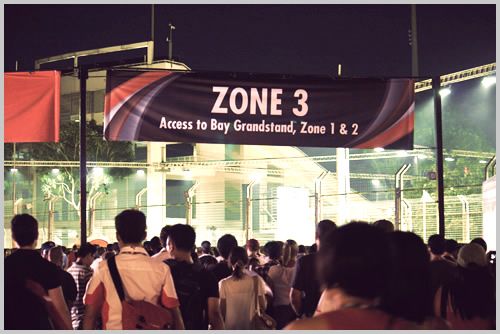 People mountain people sea~~
Grab some snacks before proceeding to our seats.
 There were a lot of people chilling out there before the race start.
 Paw 5!!
 Lots of Humans
 The stage
 Everyone stood up straight for Singapore National Anthem.
After a short introduction of the racers and the grand prix, the race started. Everyone was cheering and the next thing you know, the sounds of the F1 cars were here. Yes, just the sound. It was so loud, you can hear it few corners away.
I almost got deaf when I was next to the track when they drove by. (Seriously, get a earplug when you're there)
Everyone was staring at the track waiting for their arrival. The roars got closer and Vrrrrrrommm!! There, they were in front of us…
Everyone just stood up and watch the cars in amaze.
VRRRROMM!!
 Just in a few seconds time, they were gone.
 In their absent, there were screens everywhere for us to follow up with all the actions at other side of the tracks.
It was not long before they showed up again…
 Eh, it's our team, the Lotus Renault!!
The whole race took around an hour and a half to end. I even rode a Caparo T1 supercar before but this was my first time watching a F1 race. The thrill and excitement were not any lesser especially one trying to take over another car.
It was an awesome experience!! Thanks to Proton Malaysia for such an opportunity to watch the Singapore F1 Grand Prix.
P/S: Remember to wear light and shorts to the Race. Its freaking hot. T3T especially when you wear jeans like us