The following trip is sponsored by Air Asia. 
Read up Part 1 and Part 2 if you haven't :).
Second day of Ching Mai!!  The first day was more to free and easy activities but on the second day onwards we are gonna for some adventure in Chiang Mai. And for today, we going for…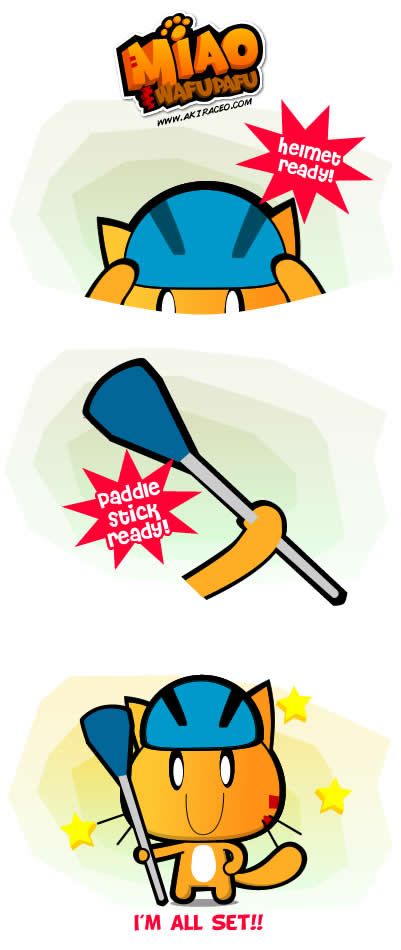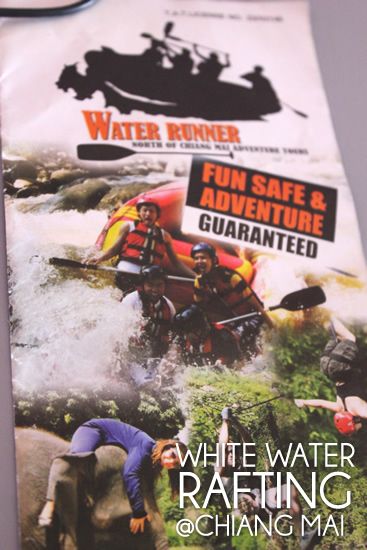 Water Rafting!! 😀
This is my second time water rafting. The first one was in Bali. The water rafting we went was called the White Water Rafting which is located at the Mae Tang River. The whole rafting trip is 10km long and took around 1 and half hour to finish depending on the water level and volume.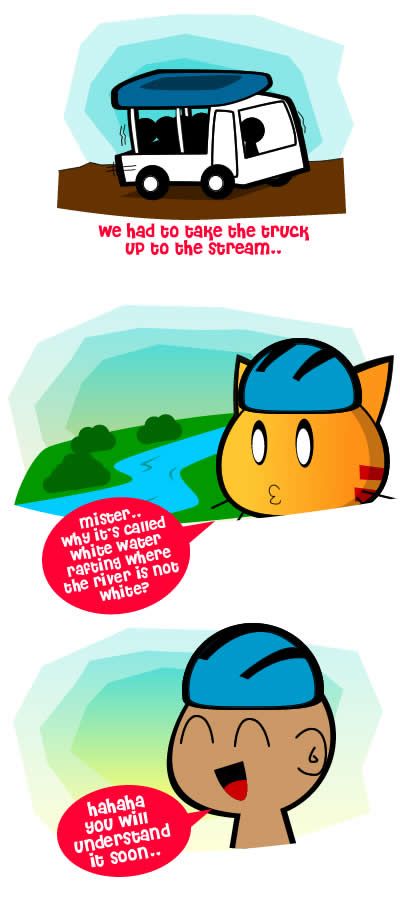 As everyone knows, I'm afraid of water but ironically I like water activities such as water slides, water rafting etc. So it's like " OMG! I gonna die!!  Oh gosh, this is fun!! Oh no I don't wanna die!! Woohooo" =.= I'm a strange cat.
To avoid to meet Wafu Pafu earlier, I was very obedient to all the captain's command.
but it can gets annoying when…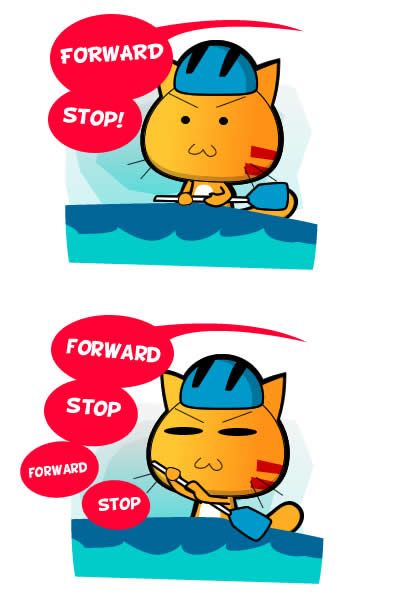 playing with us with his commands…
Here's some photos taken by the guys from the rafting company, Water Runner. As there are many of us, we separated into two boats.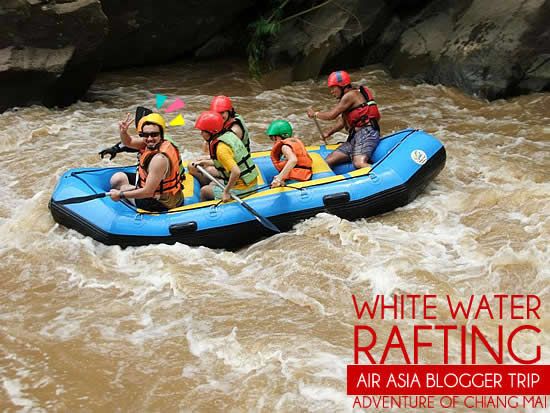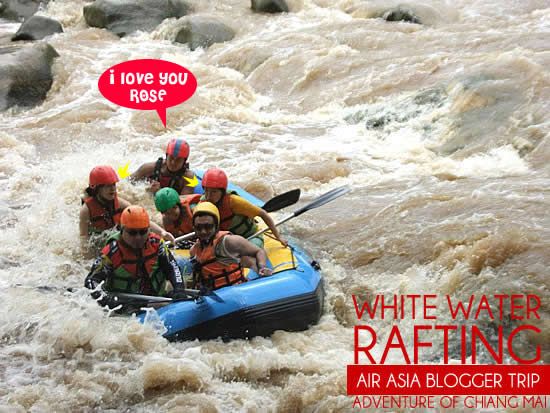 And here's ours..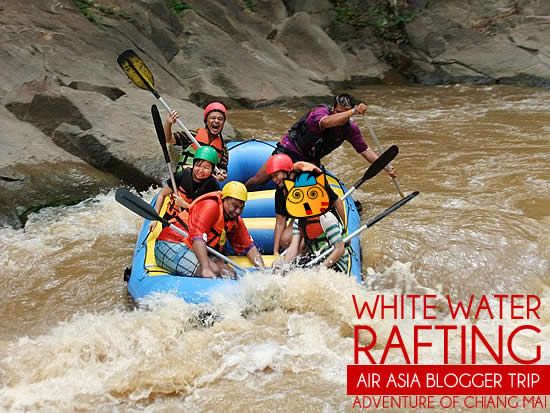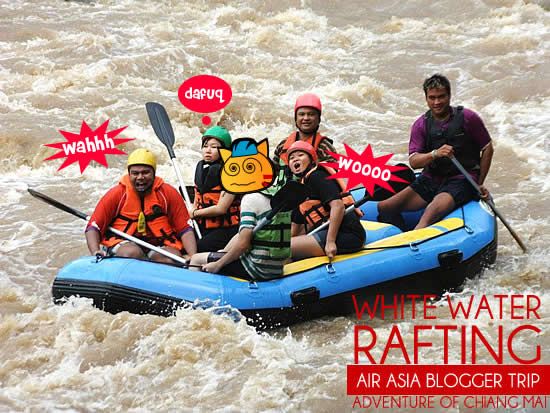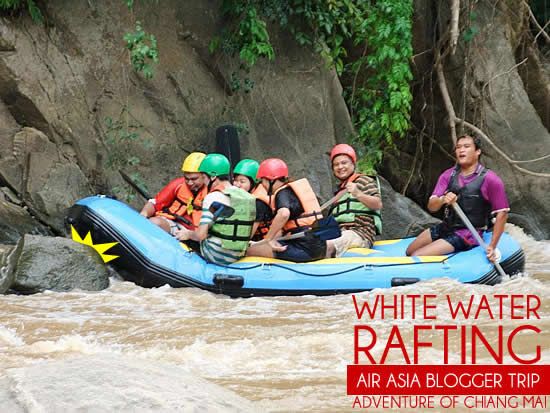 It was a fun and exciting ride.  Luckily, I didn't fall into the river.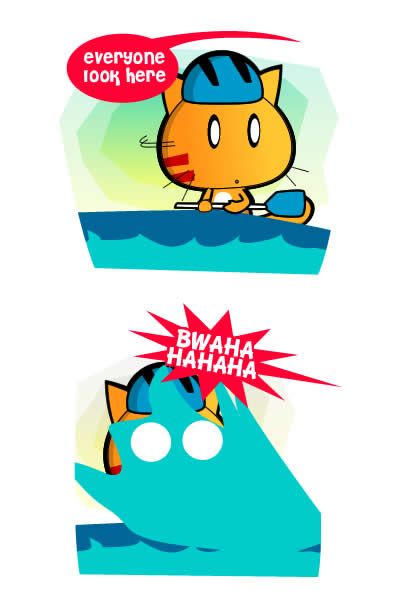 But that did not stop me from getting wet. =.= Our captain kept on splashing us with water and toying with us. There are times I feel like push the captain in the river, then again that's part of the fun.  hehehe
If you're in Chiang Mai ,do check out the Water Rafting.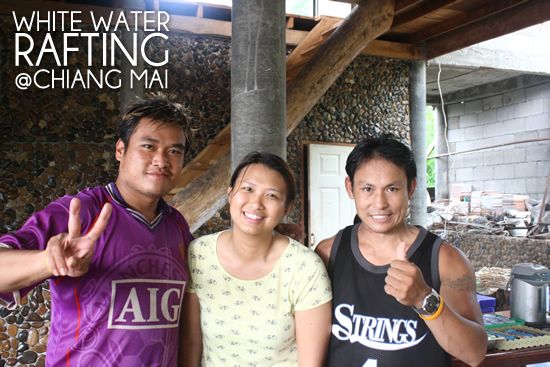 Here's our captains and our octopus nanny from Air Asia.
There are bathrooms at the HQ, so do remember to bring your towel and extra clothes to change.
And importantly, do remember your under garments.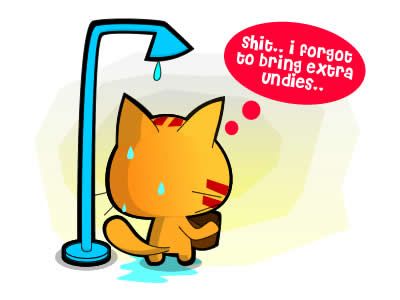 I felt so insecure for the rest of the day! >.<
At first, it seems fine as I thought we're heading back to the hotel straight but turned out, we're not. The tour guide brought us to a massage centre near our hotel. Insecurity to the max!!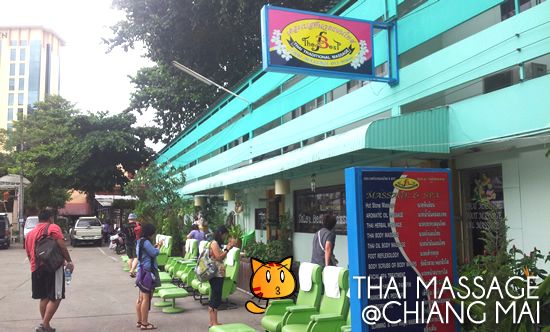 If you come to Thai, do try Thai massage and you will hear all your bones go "Krik Krak" XD. The process is not as painful as it seems to be unless you have not been exercise for many years. One thing for sure is when it's finish, you feel more relaxed and light unless the massage parlor is not experienced.
For me, I didn't feel any pain at all :). Oh wait, maybe I was distracted by other stuffs.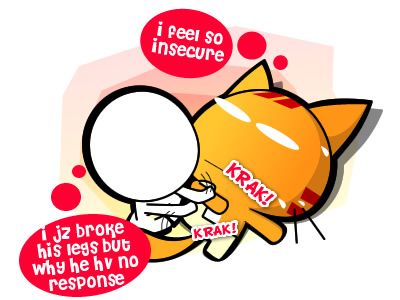 After the massage, we headed back for a rest before dinner. Thank God!! 
.
.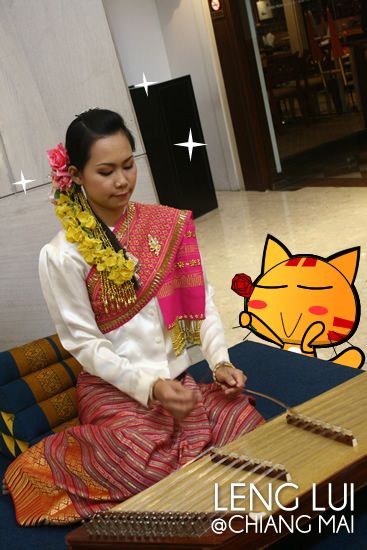 Saw this pretty young lady play some traditional musics at the lobby before heading out for dinner. Check out the video I took.
This night, we're dining at this place called Kantoke Palace. It's a place where you can have dinner while watching cultural show.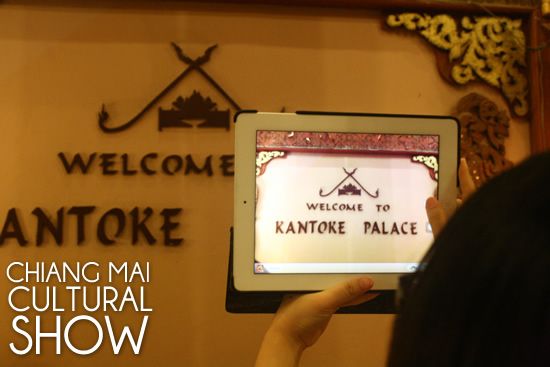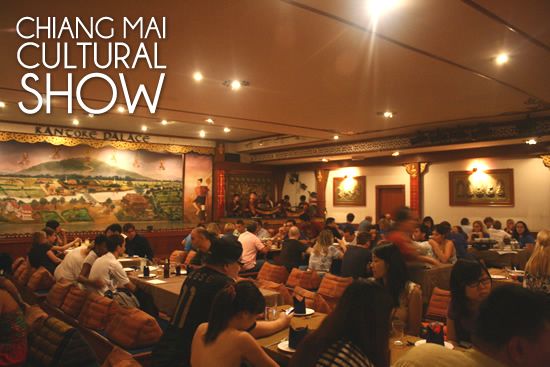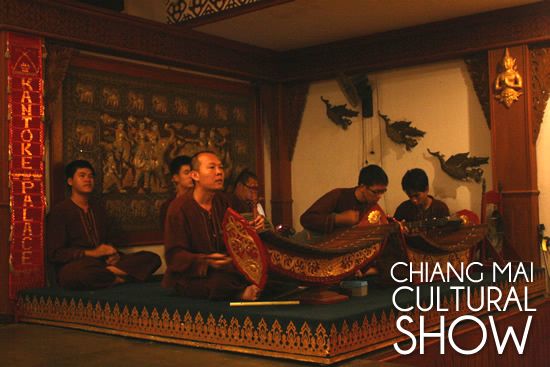 There are a couple of these shows in Chiang Mai. If you're lucky, you ended up with good food. The first time, Chingy came to Chiang Mai, she went to another show and the food was terrible.
Lucky, they have me, the lucky cat in their trip XD. We had awesome food. This is what we had.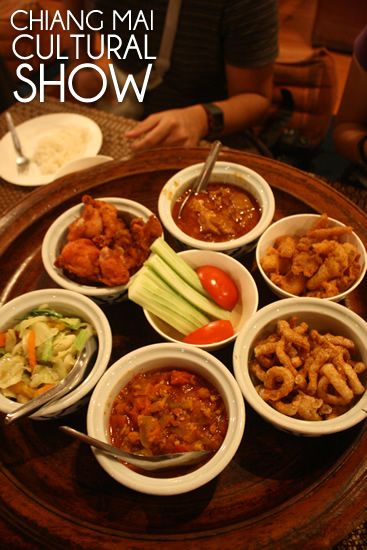 It's a traditional dish that comes in six. Deep fried Chicken, Curry Chicken, Deep Fried Potato, Fried Pork Skin, Tomato with mixed vege and Cabbages.
The best thing about this is the food can be refilled. XD You can eat as much fried chicken as you like! :3 oh nom nom nom…
About the show, there're traditional dances from different ethnics in Thailand. Hmm not bad, the only problem is I can't understand what the MC was explaining about the dance even she spoke in English. :/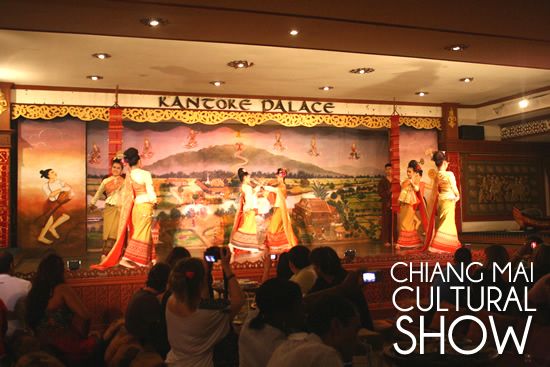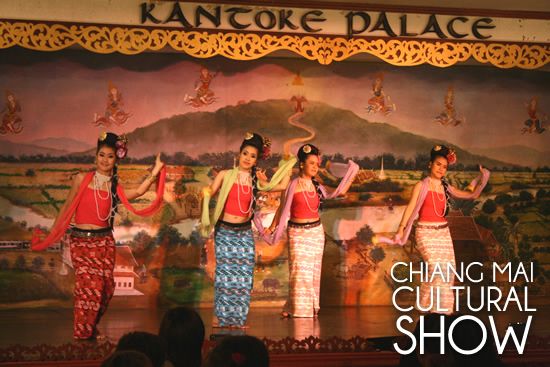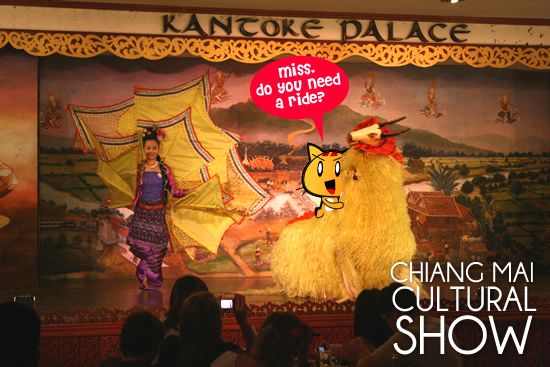 Lion Deer Dance XD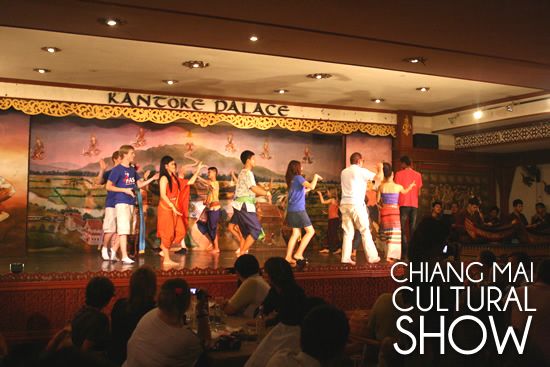 The thing I afraid the most at a show is to be drag up the stage and dance along. Luckily we sat pretty far at the back but if this girl dragged me up, I don't mind tho. LOL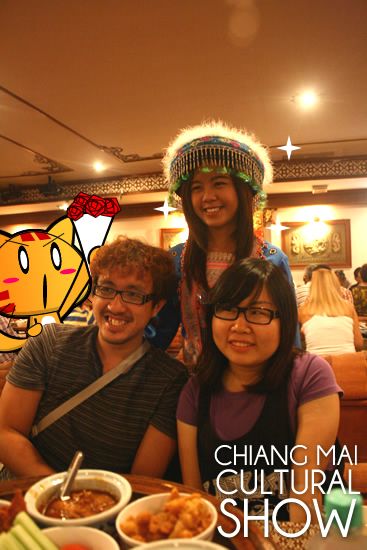 She's not a performer but walks around taking photos with tourist and have people buy the framed photos.
After the show, we went to the ChangKlan Night Market near our hotel again.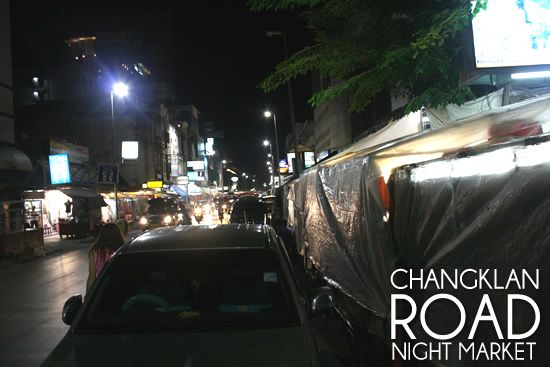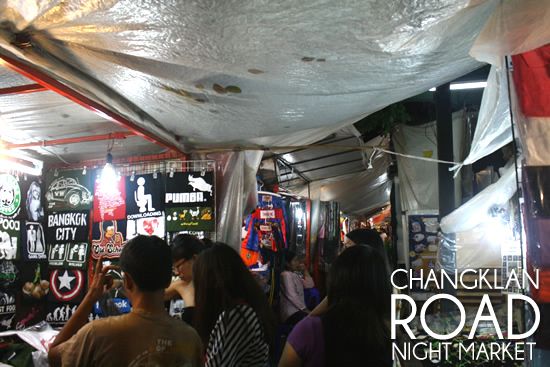 The rest bought a lot of stuffs like paintings & t shirts. There are an area where a lot of artist displayed their work for sale. Too bad, they are very strict on taking photograph of their works. I understand them, copyrights.
Copyrights are always ignored by people. Many of them just take it from granted and some even make money from it as if they think it is okay. I just encountered the same case and it's from someone I respected. Le sigh.
Anyway, back to the paintings. We encountered something weird, the price for painting appears to be different from the price yesterday but still very worth it. One day when I got my own house, I gonna buy a couple to put in my living rooms.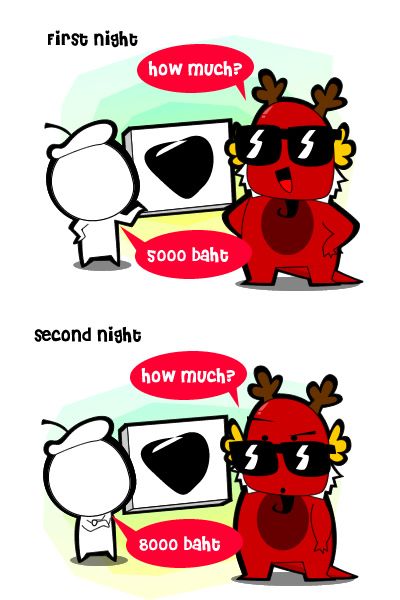 I, myself didn't bought anything as I decided to save my money for the Sunday Market which would be 10 times bigger and have more varieties of products than here XD. So I didn't even bother asking for the price of any products. Bwahahha..
But then, that did not stop me from buying Mc Donald's Samurai Burgers even with a full stomach!! When I got there, it was pretty crowded and 80% of them are Malaysians XD
Lol everyone just want a taste of Pork Burger by famous franchise like Burger King, Mc Donalds and KFC. XD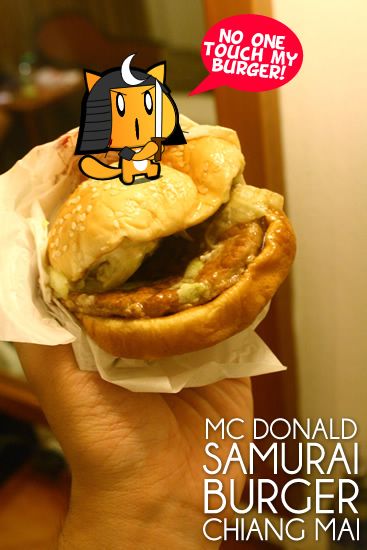 It's actually Grilled Chicken/Pork  Patty with Teriyaki sauce. Taste wonderful but still behind my favorite MOS Burger Teriyaki Burger~~ I miss you MOS Burger!
To be continued…