Previously, on trip to Longhouse. Miao&WafuPafu encounred Buaya (Crocodile).
Here's the photo of it which I forgot to post.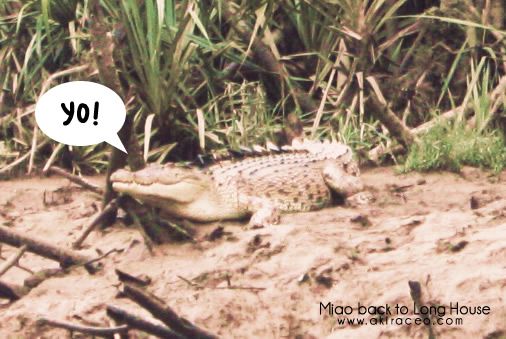 It's my first time to encountered a crocodile in the wild. 😐
Pretty exciting lor. We actually managed to spot almost 5-6 of them on our way out few days later.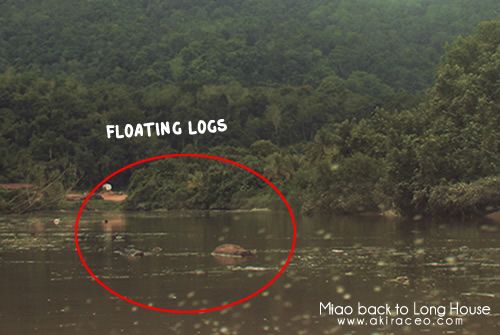 Due to heavy deforestation, there are lots of floating logs on the river. It would be scary if we accidentally ran into one, flip the boat or sank the boat into the crocodile infested river. OAO
So to avoid this to happen, one who is experienced is needed to sit in the first seat and guide the boat. So…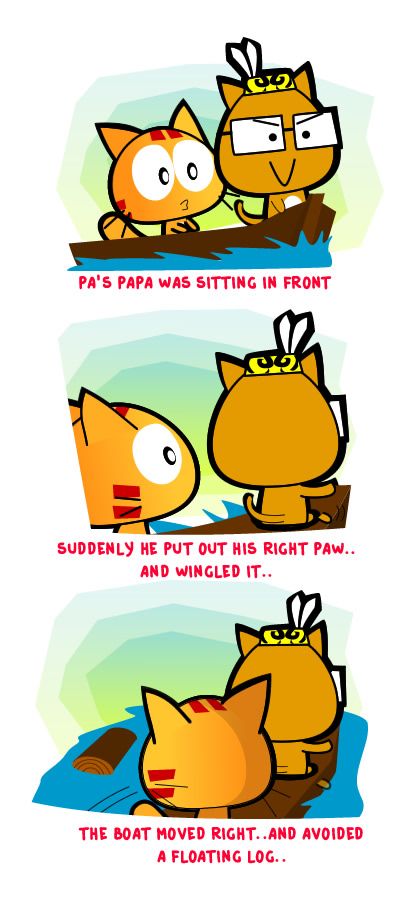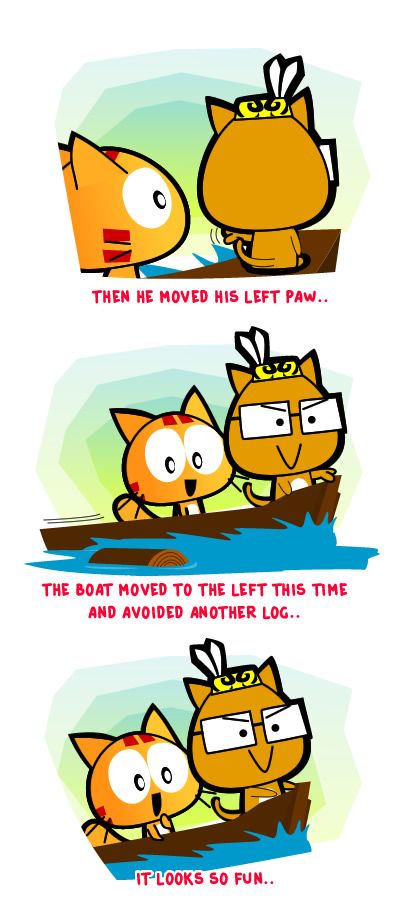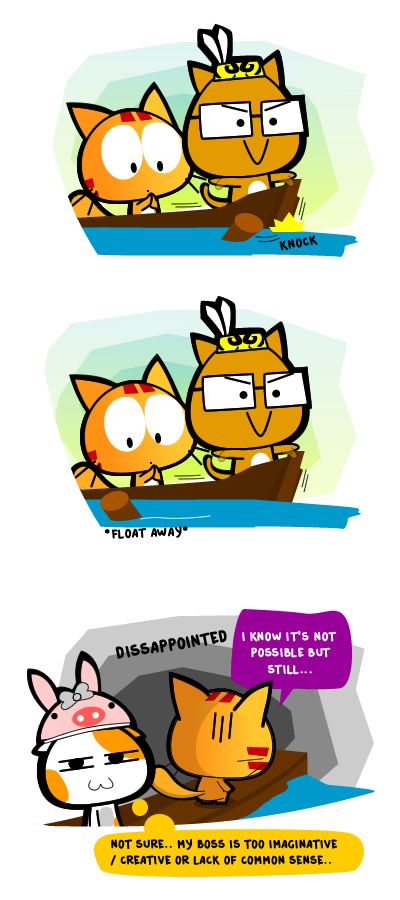 Seriously, that flying thing really came in my mind. what the meow. I have no idea what my brain is thinking.
After the 2 hours boat ride, we finally reached the jetty to the long house.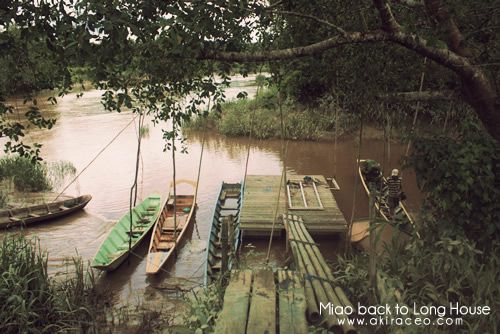 A peaceful jetty.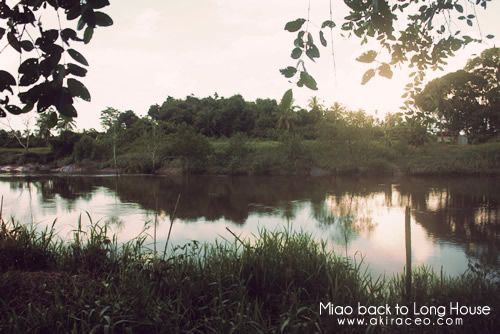 I heard from PA's Papa, the water here used to be crystal clear, and when he was small, he used to swim in the river with all his relatives but now it's all muddy that he don't even dare dip his legs in it.
It took only 5 minutes walk from the jetty to the longhouse.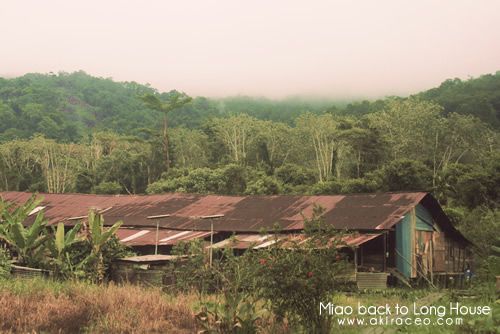 TADA!! this is the longhouse.
There are many kinds of long house.
The Modern one with bricked, satellite dish, power, water supply, road connections etc.
The Old school one (occupied), wooden made, still fully occupied, maintained, repaired but without/with limited basic utilities exactly like the longhouse hundred years ago.
The Run Down one (foreveralone left behind), similar with the Old School having no or limited basic utilities but without much maintenance and renovation due to low occupancy.
The one I went is the the run down one where only 2-3 out of the 27-29 families stay there, the rest only went back during the Gawai, so it was pretty run down, it is a very old longhouse, dated more than 80 years or even much more.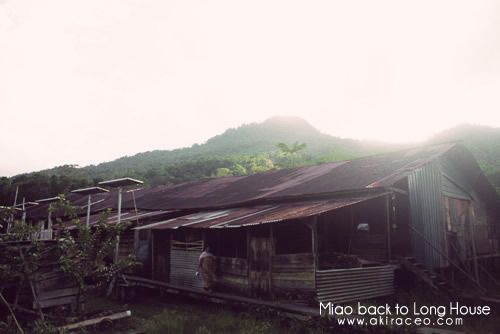 The Semulong Iban Long House.
The Iban traditional longhouse mainly are made out of wood and located near the river. In oppose to the Bidayuh's longhouse which have more bamboo as material, located on hills and comes with a baruk (round building); and the Ulu's longhouse which is larger in size located on highlands and always covered with mural drawing of tree of life.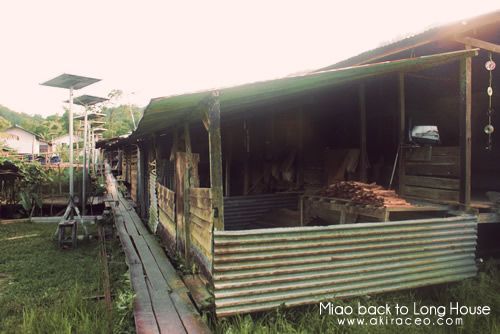 This longhouse comes with solar panels batteries. It's not much but sufficient for light activities usage .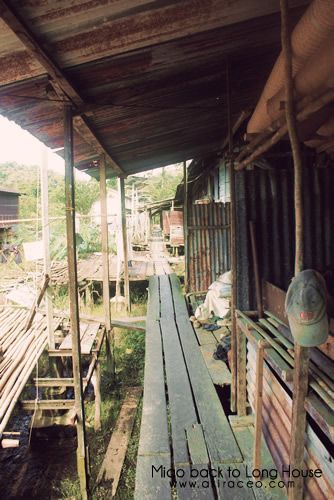 The walkway.
Open Verandah where people rise their rice, crops, laundry etc. And that's a new house trying to be anti social and separating from the main longhouse. XD
Another new house separating itself from the longhouse.
And here we are 😀 The staircase to the the Ruai (verendah) and also to my PA family's pintu (house room).
It was my first time visiting a real longhouse (mock, or tourism'ed longhouse not included). I always wanted to visit a real and traditional longhouse. I'm a big fan of culture thingy like folktale, legends, taboos etc. I always find them interesting.
So the most looking forward thing in this trip is…
So i was so excited and can't wait to meet the first villager!!
And just within a few minutes, I managed to meet a village…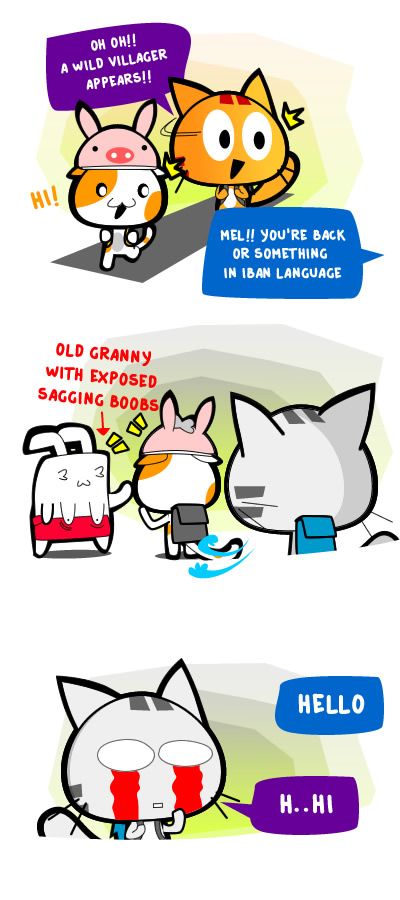 It was a shocking experience..
To be continued..
 —————————-