Intro | Le Journey | Bario Food Festival 2014
The Festival Site
Wheee…finally reached Bario. Auntie Lucy's (the owner of the longhouse homestay we're staying) cousin picked us up at the airport. The Food Festival site is located at the Padang Pasir Village which is just a 5 minutes drive from the airport.
When we reached, there were many Kelabits lining up to welcome us..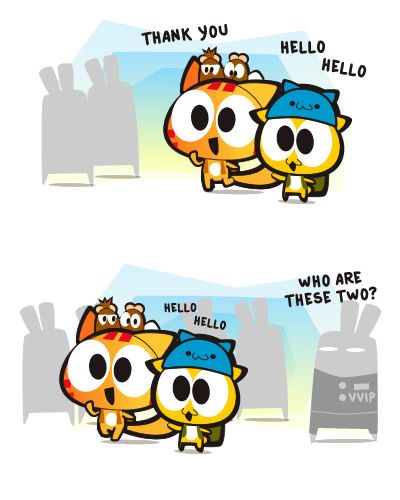 and so I thought. LOL!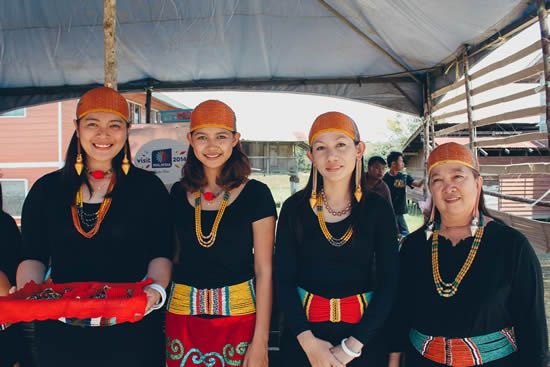 This is the traditional costume of Kelabits. It's a little similar with their cousin ethnics, the Lun Bawang.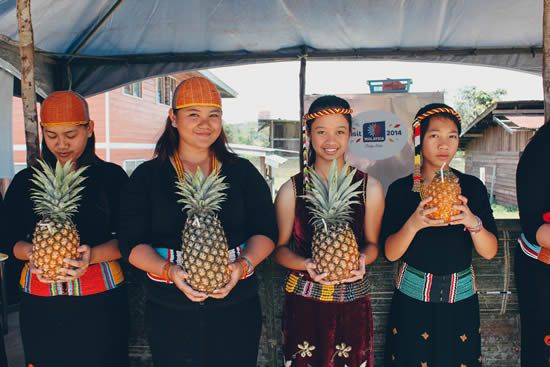 The difference is the color of the headgear. Kelabits headgear is brown at the front and multi colored at the rear while the Lun Bawang's are all yellow. Traditionally, they only wear the dress and top part is bare.
The site is not too huge, there were only one row of food stalls, one row of shops selling drinks and handcrafts and a stage for cultural performances.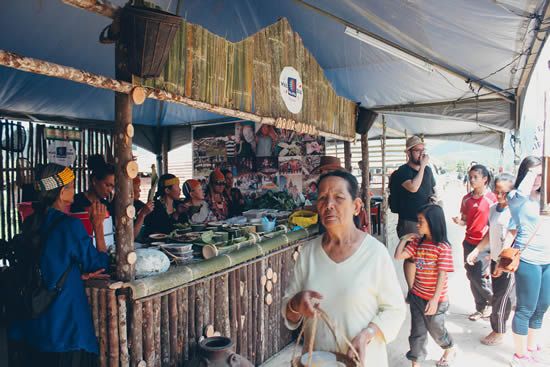 Each of the stall represents one village and all of them are competing with each other for the Best Food Stall of the Festival. So, all of the stalls were well decorated.There are 14-16 villages around Bario but this year only 9 or 12 villages taking part in this festival.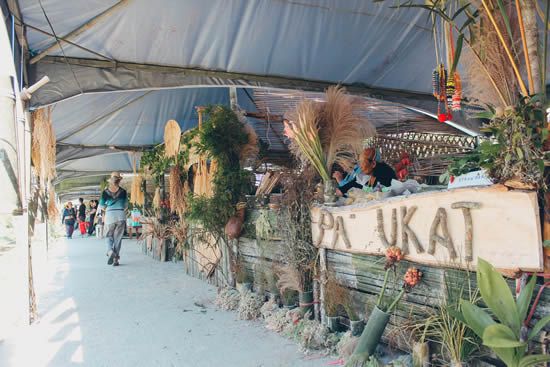 Pa Ukat means Ukat Village.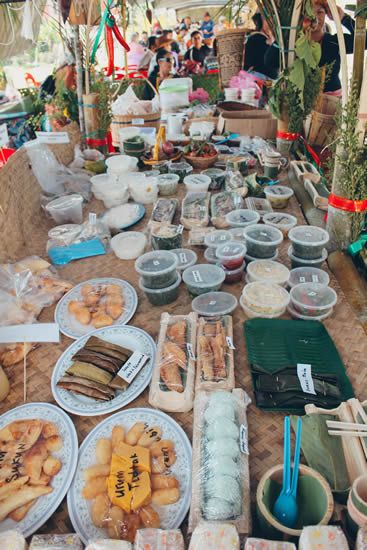 Look at all these food that can't wait to go into my mouth.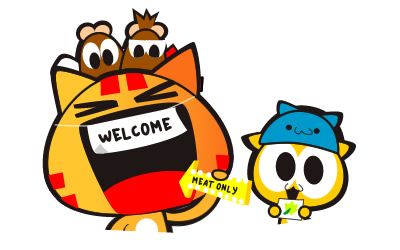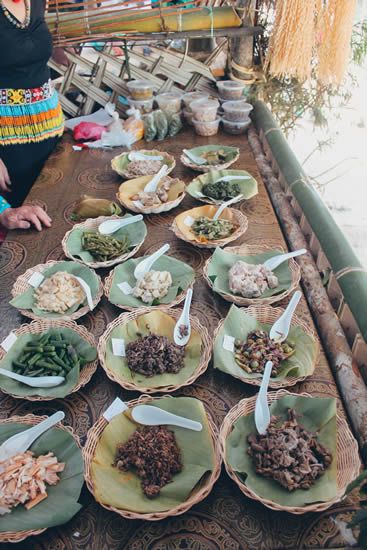 And it's free to try. #Waitwhat! LOL
[x]
If you found something you like, you can buy a box of that dish for RM5 or a scoop for RM1.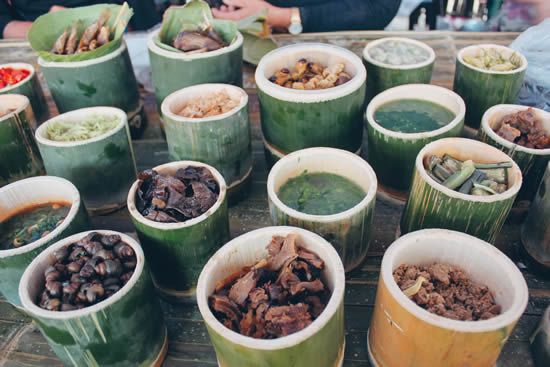 It's all Kelabit food. A new cuisine to me and have no idea what to expect. I believe we can't get Kelabit cuisine outside of the highlands. Most of the ingredients are wild vegetables and animals that you can only found in the Bario highland.
They did provide signs on the dish but they were all in Kelabit and it's not helping at all. LOL =.=
Then again, sometimes it's best to not know what you're eating tho especially in a food fest.
Kelabit Food
Okay #waitwhat! Dig in!! hahaha
Check out the food I had.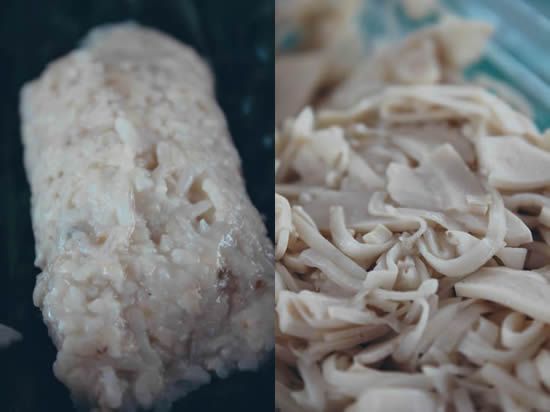 Fermented Rice and Bamboo Shoots?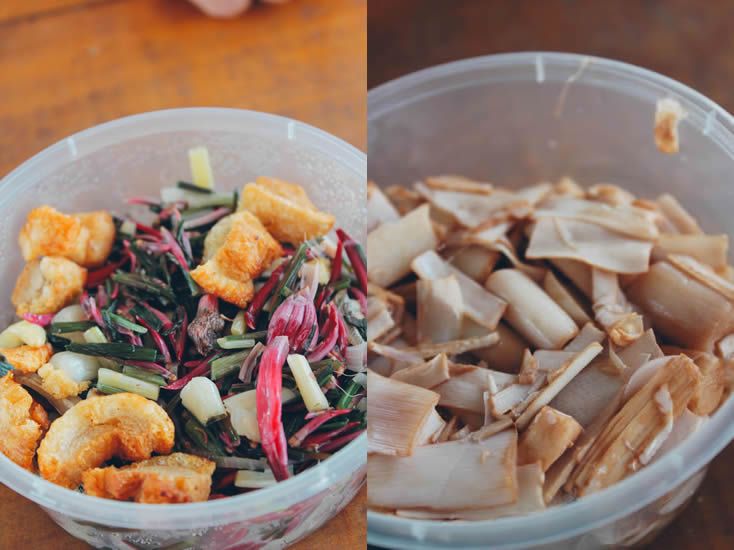 Bunga Kantan Shoots and Palm Shoots or Pineapple shoots?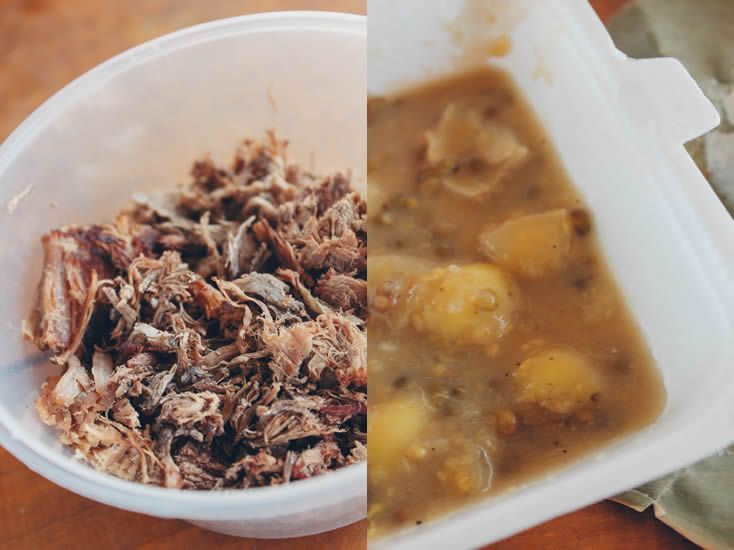 Dried Pork with Mushrooms and Durian with Green Beans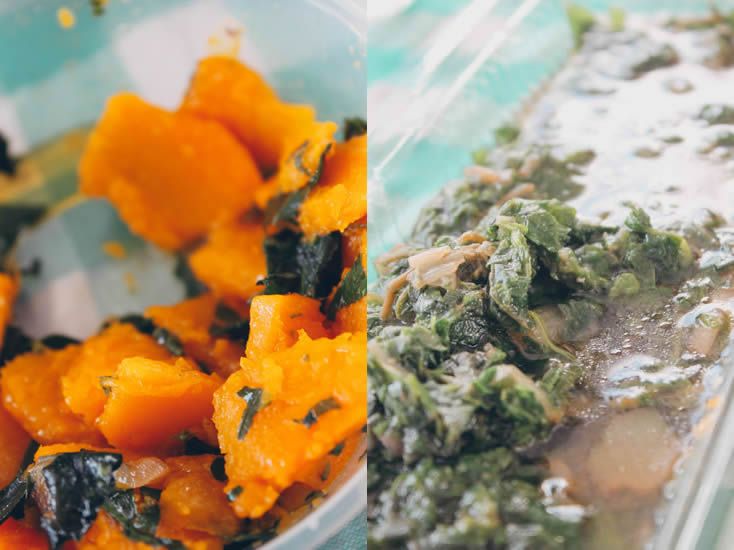 Pumpkin something and hmm something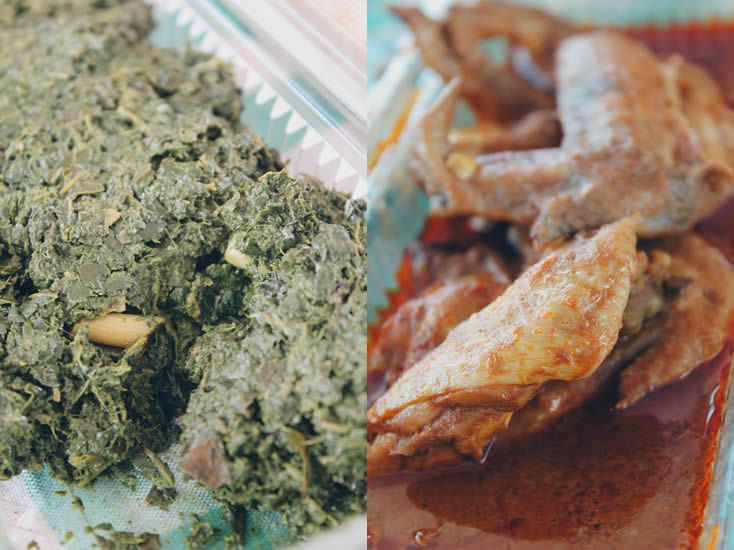 Mashed Potato Leaves? and Curry Chicken!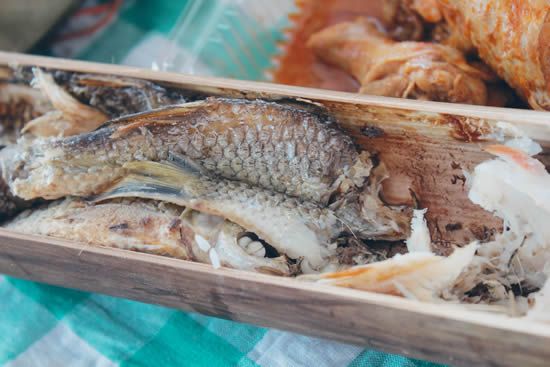 Bamboo River Fish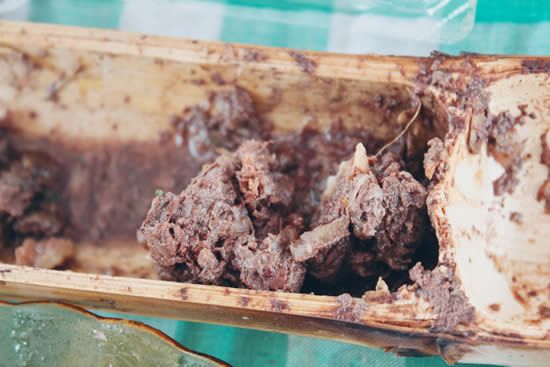 Hmm..This is either Porcupine, Barking Deer or Mousedeer. I can't really sure but I did had all three of them during this trip. Most of the time I only found out after I send them into my stomach. =.=
"Wild" meat is common here as most of the villagers here owned hunting licence.
I even had wild food that is "hunt" without a licence.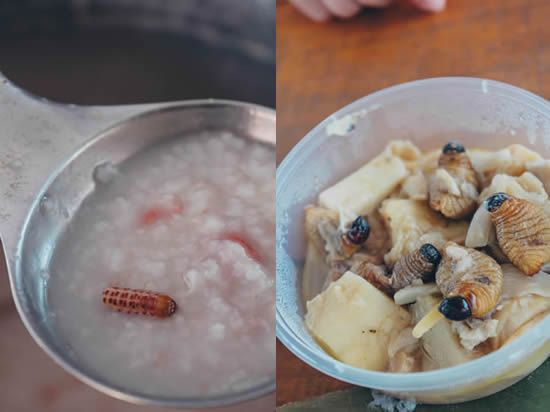 These.. XD Kelatang Grub Podridge and Stir Fry Sago Worm with Shoots.
Sago Worms is very common all over Sarawak but the Kelatang Grub is native to this highland. And I can say that Sago Worm still the best worm ever lol. Kelantang Grub has a very strong taste to it, a little like Bunga Kantan taste.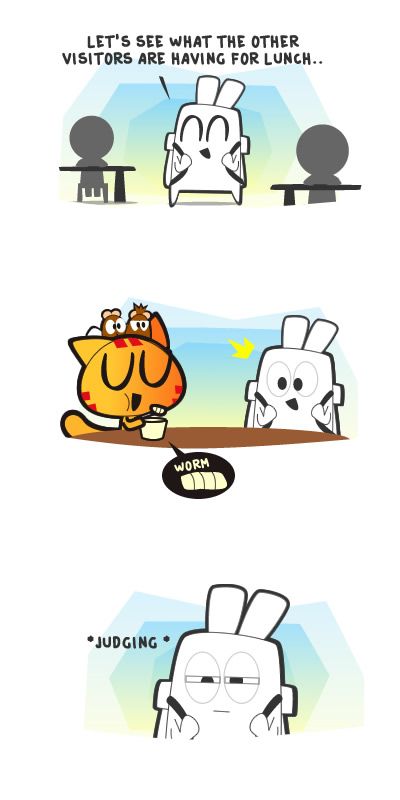 There's quite a number of foreigners saw what I ate while walking pass my table and I saw some of them shocked with what they saw.LOL
I have this Bario-to-eat-list before I went to Bario and having Kelatang Grub was one it. It suppose to complete my Bario trip, not until I found out there's another dish that one must savor in Bario and that is the BBQ Wild Pork Rib!! omaigod! OvO  #sorrynonhalal
A new found friend of mine managed to have it and said it was really good. Sadly it sold out before I managed to get a glimpse of it. So sad. Well, another reason to go back to Bario. > v <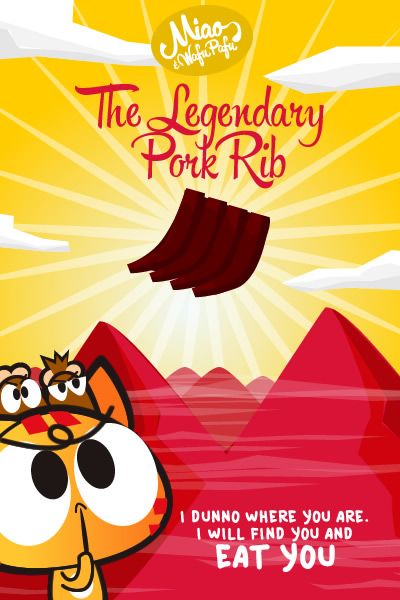 Poster for next trip. LOL
And this one looks interesting too. Maybe next time can get to eat this. hehehe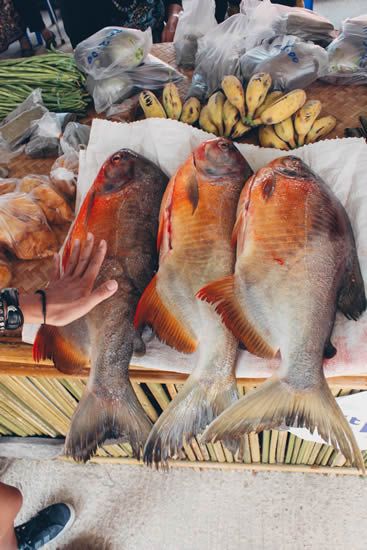 See how huge it is! omg!  Never know a upstream fish can be so huge.
Cultural Performance Show
 There were cultural performance for the guest.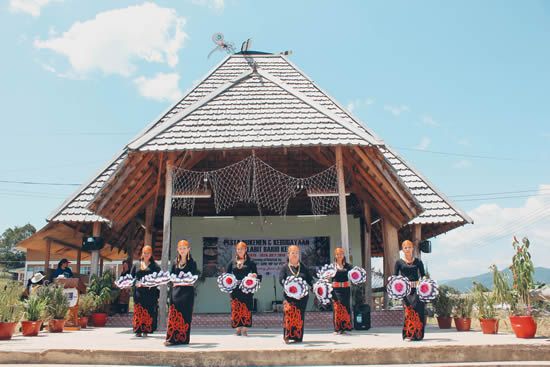 The infamous Orang Ulu's Hornbill dance and it was very graceful. Will share the video after I edit it.
Here's a performance telling the life of a Kelabit in the old days.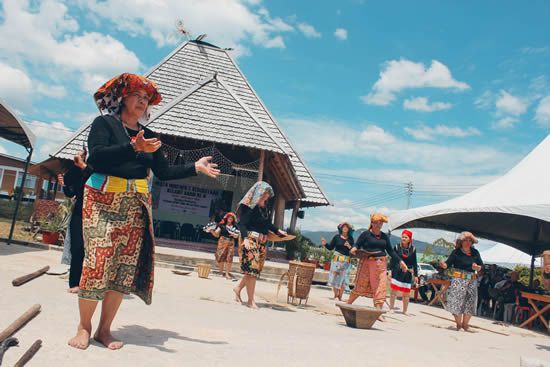 There were kids performing too.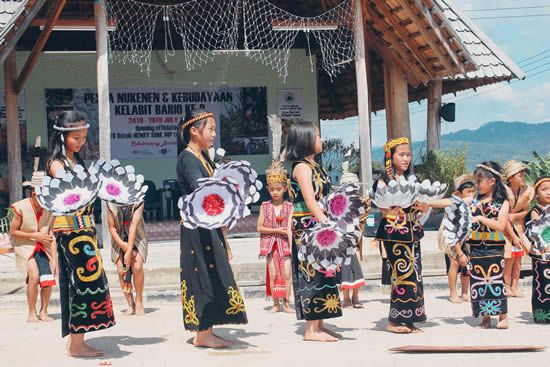 So cute in their traditional costume.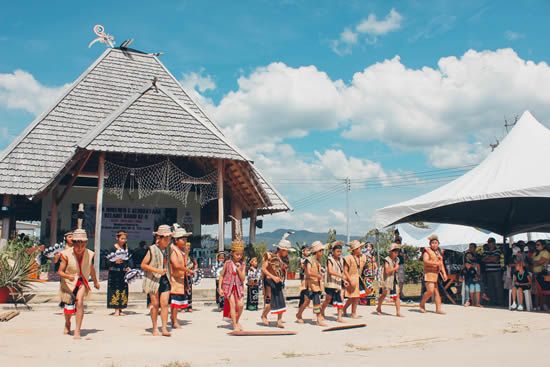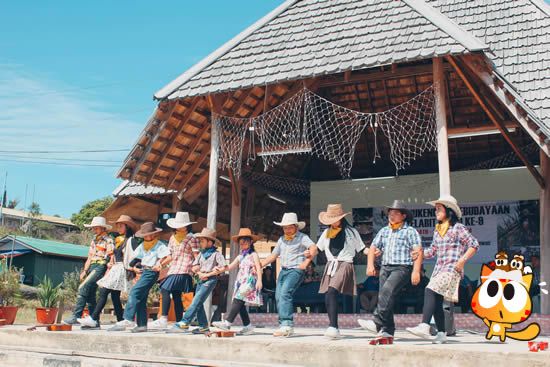 Somehow, cowboy style/culture has become part of the highlander modern culture among Lun Bawang and Kelabits people. Instead of horses, the Lun Bawang ride on buffaloes and the people wear cowboy hats on a daily basis. I guess the culture was  brought in during the missionary.
Kelabit Games
There were many traditional games up for the community and the visitors to play.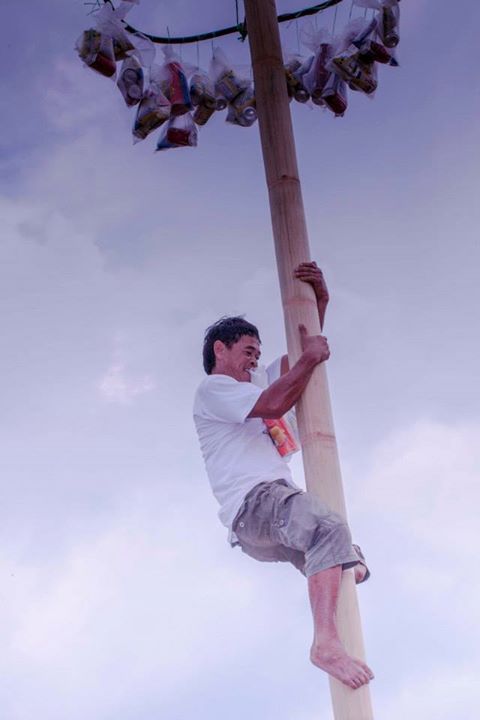 (image from BarioFoodFestival FB)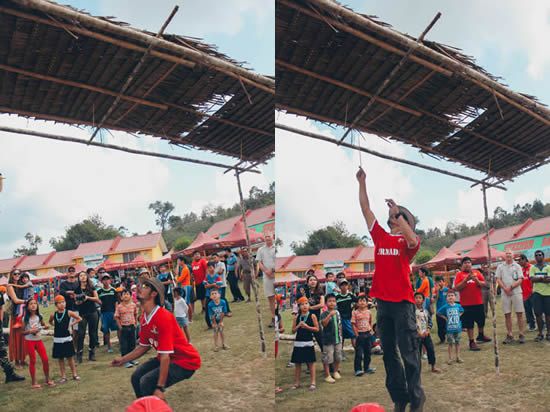 all of them are very physical challenging. I was too full to move so I didn't join any of them. LOL
And then, they have this..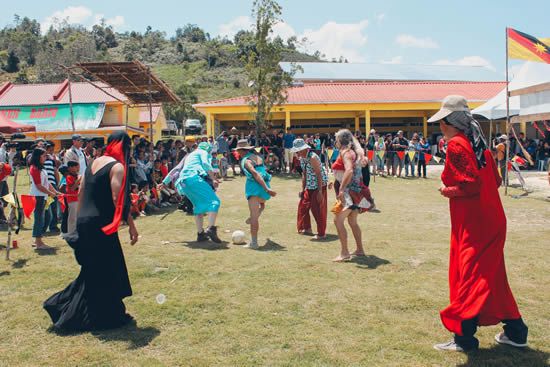 The locals dressed up as ladies and had a match of football. LOL Everyone was laughing like mad especially when they adjusting their skirts or fake boobs. hahahah
The activities ended around 4-5pm where everyone went back longhouse for a short rest and shower before the night show.
 The Night
The night show starts around 8pm and it was filled with music and dances.
The international Sape player, Jerry Kamit was there to perform for the night. It was an honor to be able to listen to him live.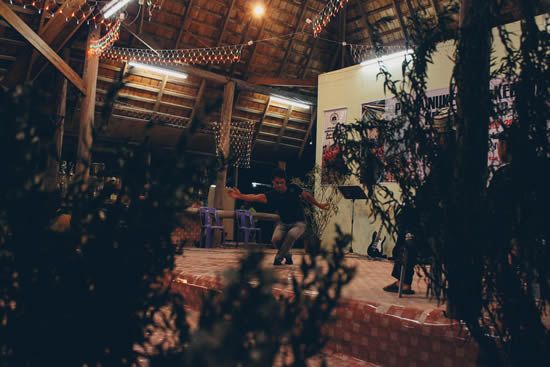 There were also traditional dancing competition.
and i thought it was a beauty pageant.*koff koff* cantik (pretty) nya*
and the night didn't ends here. The party just started lol. Everyone started dancing together from poco poco dance to 80's hits songs. I heard that some of them dance and party until 4 in the morning. *salute*
I'm too old for that. I was dead tired and sleeping warmly in my bed. LOL
——————————-
For more photos and info, do visit Bario Food Festival Facebook page. 😀
Honestly, I can't wait to go back for next year Bario Food Festival. > v < I heard from the organizer that there's gonna be even more food and not only just Kelabit food.  (* v *) *eyes sparkles*