Songkran is the New Year for Thais. 
This year i suppose to go Bangkok for Songkran but unfortunately due to some timing we had to skip and move my Bangkok trip to May.
When I thought I gonna missed out Songkran this year, I was fortunate to be invited by AirAsia for the Songkran in Khon Kaen, Thailand! Woohoo!! Thank you AirAsia!!
And so, I was in Khon Kaen last week for my first water festival!!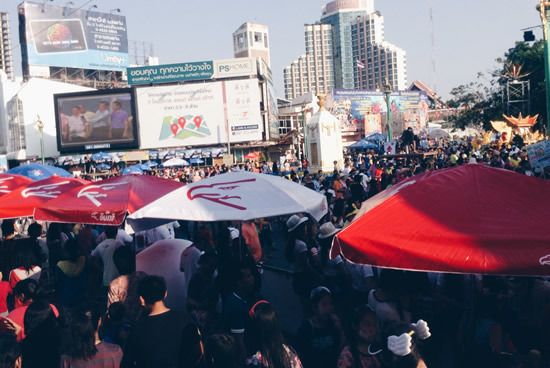 Look at all the humans!! People mountain people sea!!! 
It was way more happening than I thought. It's like the whole city population on the street.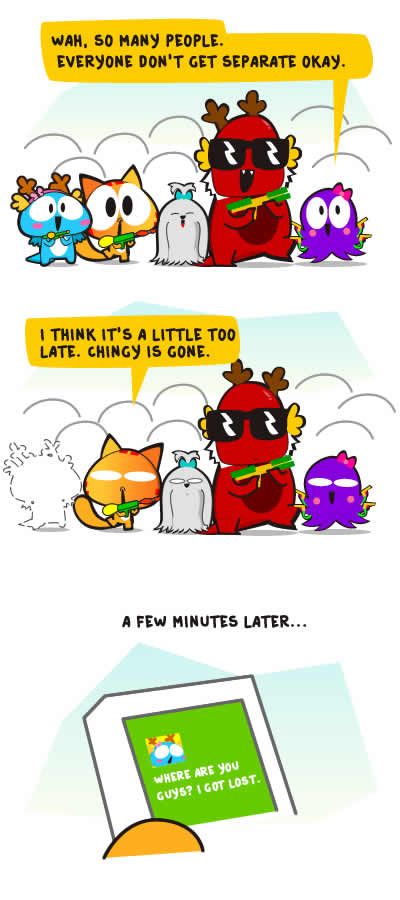 And yes, Chingy got separate from us and got lost in less than 20 minutes. 😐 #winliaolor
They closed up part of the city and streets for the Songkran. It's basically like a big huge carnival. There are food stalls along the sides leading to the main street.
Over at the main street, there are many stages along each side of the streets with performances and shows for the people. They called them water stations because they have water containers for you to refilled your water guns and also shoot you with.
Look what i found.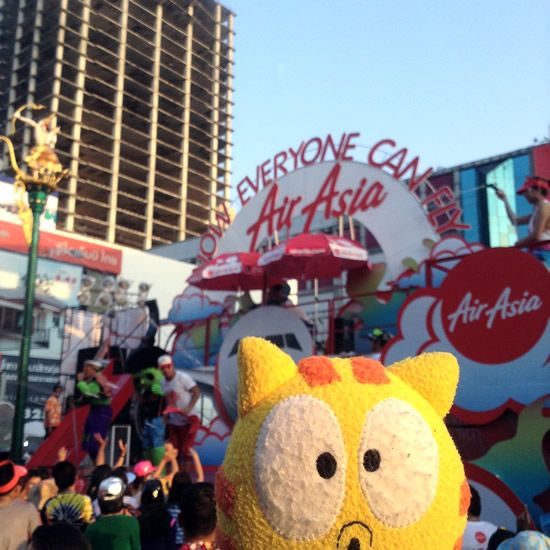 AirAsia water station!
View from the AirAsia stage.
It's kinda scary up here due to the slippery floor.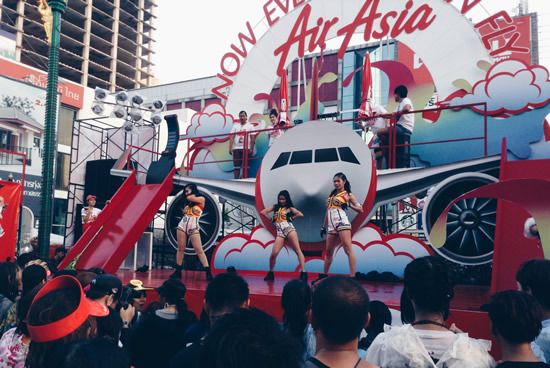 I really have to salute those dancers who performed on AirAsia dance showdown. I hardly can walk properly but those people can just dance on it.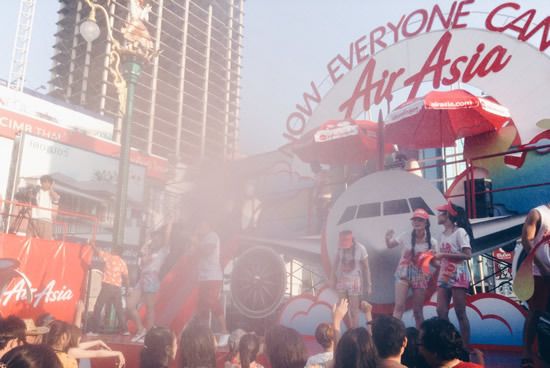 Then comes the water war.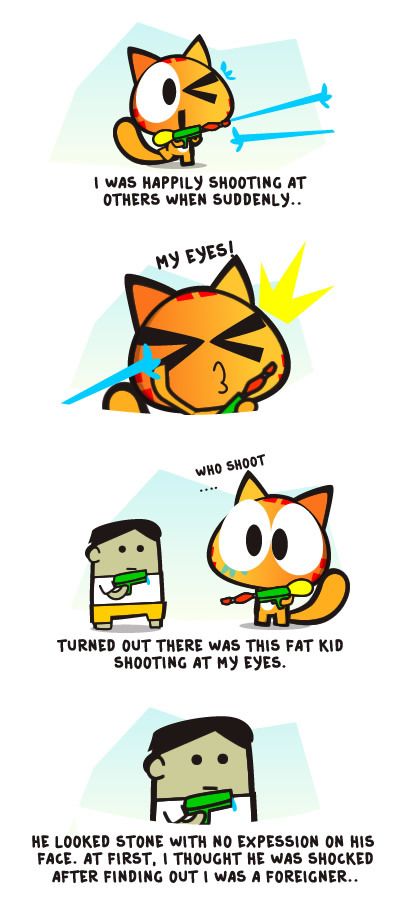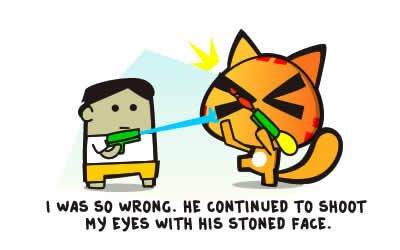 I ran away from him after that. The fat boy was scary.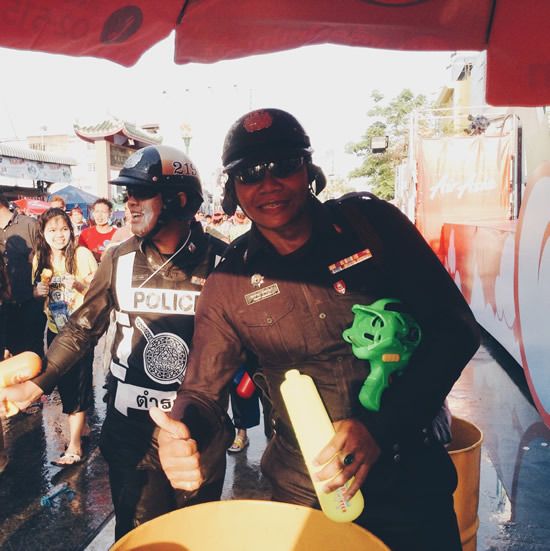 The Thailand policemen were so sporting lor. Playing with water guns with all the civilians. Here's a photo of him refilling his "ammo" at AirAsia water station.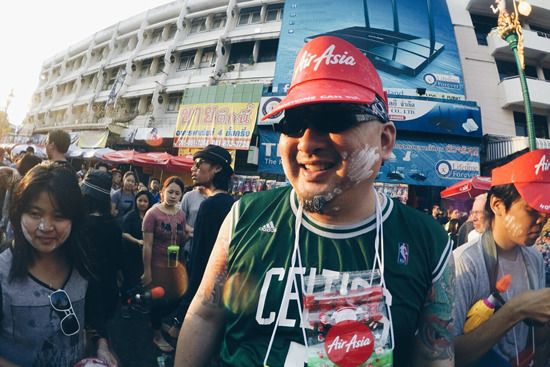 A photo of us XD
When I first heard that they play powder at Songkran. My first impression was like…
OMG!!! SO SCARYY!! NOO!!!
then when i was there..
they greet you while holding to a bottle of powder. Then smile with you while showing you the powder in their hands. They were so polite that I nodded to them and allowed them to put powder on me. How can anyone reject such politeness.
And the one putting the powder was just a random uncle. I can't imagine if it's a cute Thai girl OAO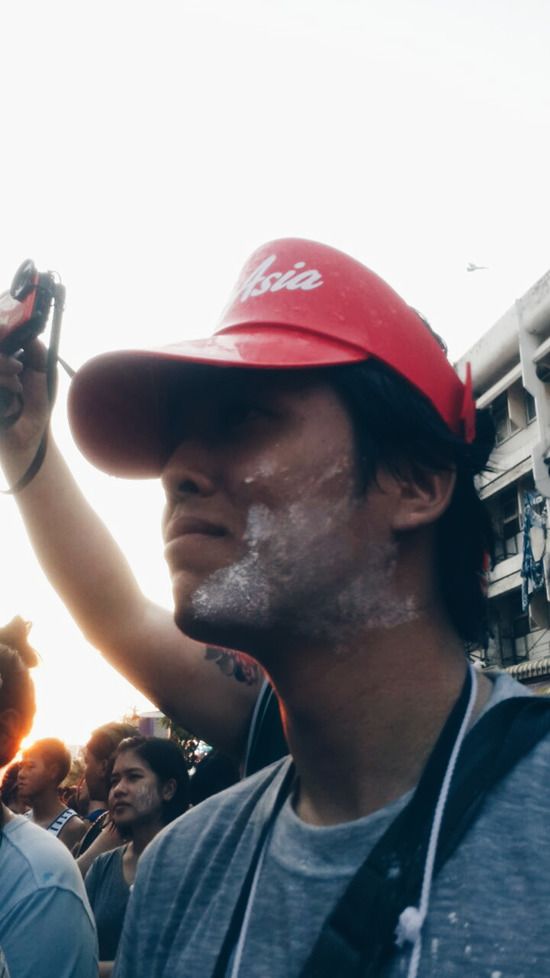 Look at my face. :>
I took a walk to the stage next door and it was getting more serious over there. It's scary.
But not for this boy, i bet it was his best day of his life. hahaha
Here's a short video of it.
I don't know why it's just 240p :< Sorry about that.
Maiku (dammit)! I still missing Songkran, I'm so gonna head back next year.
Songkran is held on every 2nd week of April. All cities in Thailand celebrate it, but each with its own vibe and crowd. If you have celebrate Songkran in other cities before, do check out the one here in Khon Kaen too.
If you have not experienced Songkran, it's a must-do-once in a lifetime. It's best to start planning now. 😀
Khon Kaen is about 60 minutes flight away from Bangkok with 4x daily flights.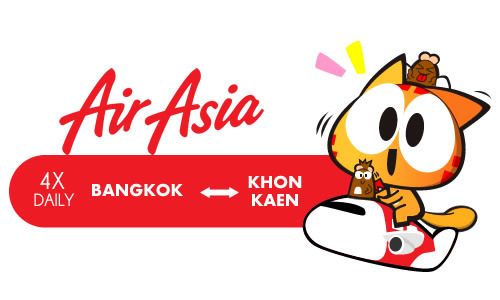 More of Khon Kaen:
– What to do at night in Khon Kaen