Last month I was invited for a FAM trip to Jeju, the largest off coast island of Korea, an island with 3 UNESCO titles. For those who are into Korean dramas, Jeju is a not an uncommon name to them since many movies and drama had been shot there.
The journey to there took us two flights, one from KL, Malaysia to Seoul, Incheon Airport ( 6 hours 15 min)and another from Gimpo Airport to Jeju Island (1 hour). Gimpo Aiport is 45 min shuttle bus ride from Incheon Airport.
As we were taking Koreanair, we flew from KLIA terminal, I almost went to the wrong one. Luckily I followed my friend, Shisa's car else I would have gone to KLIA 2 on my own.
When I reached there, I saw someone familiar from far.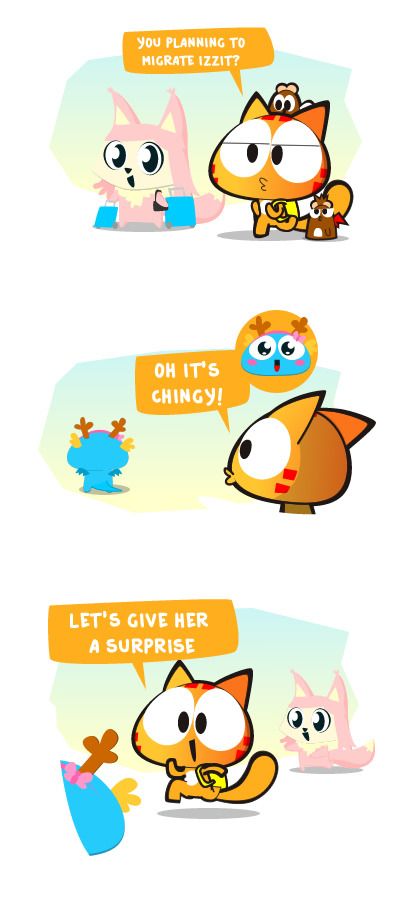 I accidentally mistaken someone else for Chingy. Omg. I almost went and hit the wrong person in the head. Luckily I managed to stop in time from assaulting a stranger. The stranger appears to be one of the media who is going with us to Jeju.
To be honest, I mistaken her as Chingy a couple more times in Jeju. 😐 Have you mistaken someone for your friend and you did horrible thing to her/him?
Speaking of Koreanair, it is very comfortable, the food was great, the seat was comfy and spacious, and the air stewardess are God dead gorgeous.
Just that, they looked almost alike.
After almost 12 hours of traveling, from night time 11pm to the next day 11am, we finally reached Jeju. Luckily there's free wifi to keep us entertained. When they mean Free, they really mean it.
Jeju island is almost the size of Kuching Metro with a population of 500k+. It is not a very dense city, so there weren't much high rise.
First thing first, makan!
We had Jeju Korean food, it looks like normal korean food a main dish and many side dishes but it is very different as they use very different ingredients and preparation method in which many of them native to Jeju.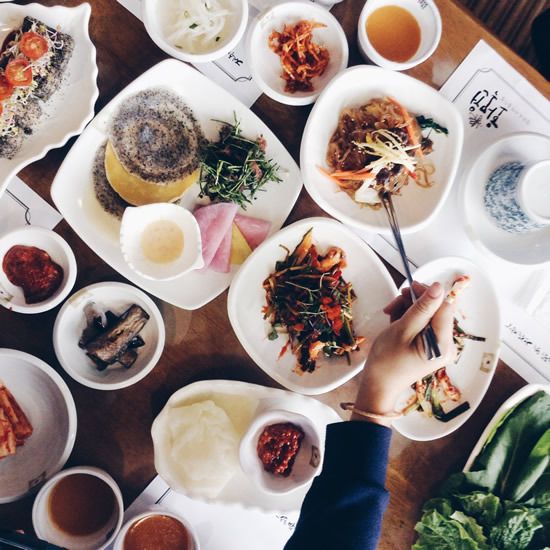 Aewol Coastal Road
After filling our empty tummies, we took a 30 min ride to Aewol Coastal Road.
It's a beautiful seaside with many cafes. A great place to just chilled and have a cup of coffee.
There's a walkway along the seaside, very nice spot to paktor or just relax or take some photo shots. XD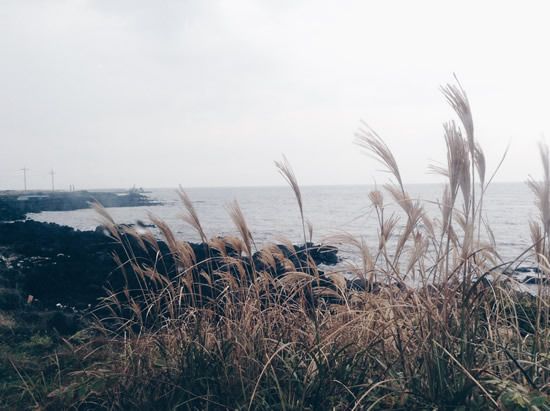 le me tying my hair. 
le shisa taking emo shots. 
Kenapa Malaysia macam takde tempat macam ni. 
For those who is a big fan of GDragon from Big Bang. This cafe is a must visit.
You won't get to see GDragon there but this is a cafe opened by him. XD For coffee lovers, Korean coffee are very mild, you might not like it, actually those packed coffee in 7-11 actually tasted better. XD
Play KPOP Interactive Museum
Kpop fans would love this place a lot. It's a 3D interactive Museum with Kpop artist, notably Big Bang and 2NE1.
A best location to learn the history of Kpop.
You get to pura-pura ( play pretend) with them. Hahaha
You even get to have GD laying on your legs hahah
or even get a kiss from him XD
or even dance with the whole Big Bang group.
The highlight of the museum is the 3D hologram concert where the kpop artist will perform in front of you as if he's there due to the hologram effect making him looks 3D from any angle.
We went to GD's. We all likes Big Bang. Lol. Too bad no photographing was allowed in there.
The aunties appears to be much more excited and danced around where the youngster all stood quietly and watched the show.
BBQ Dinner
Korean BBQ for dinner! Something I looked forward to as I heard Jeju is famous for their black pork.
And it was really good. Sweet and less porky than normal pork.
The other table had Beef but I don't eat beef so no comment. hahaha.
——————————–
That's the end of my first half day. It was a good start 😀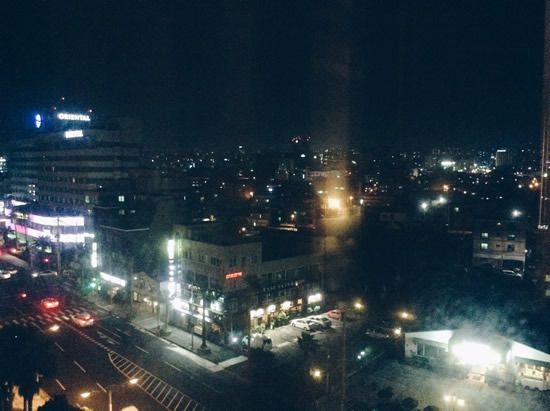 A view of the city from my room.
—————–
Here's a clip of Day 1 by Suria FM. Try to spot me in there hahaha.